We love our dogs and their puppies. We treat them like extended family. We care about their well-being and make every effort to provide them with the best possible outcomes throughout their development. For this reason, our goal is to find a happy fit between owner and puppy and try to match each puppy with a compatible home.
We do everything within our reach to produce first-rate golden retriever puppies with the intention to help their owners experience the happiness and satisfaction we have had with our dogs. Whether your puppy's job will be to compete, serve as a working dog, or be the ideal companion, you can rest assure that we make every effort to ensure your puppy has the health and intelligence you need.
---
Litter Born May 7, 2023
All puppies have been reserved from this litter
Let us know if you are interested in being added to our waitlist for our next litter (expected Spring 2024)
Click Here
(Stud still undetermined)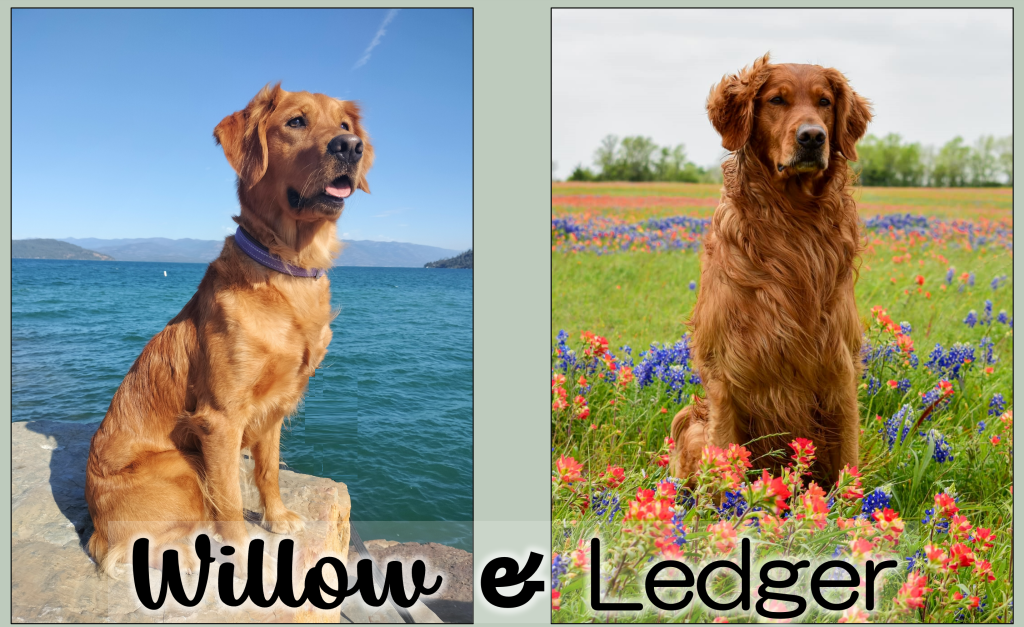 Willow
Willow (LPG's Sparkling Willow by the Lake) has a resplendent dark golden color with a straight, silky coat, and we particularly love that she hardly sheds. She is very birdy and would choose to be in the water all day if she could. While she is primarily a family pet, Willow is extremely inquisitive, athletic, confident, driven and eager to please. She also has a great on/off switch which makes her great for both indoor living and outdoor activities.
Willow is a quiet, patient, gentle dog that absolutely loves her people. She loves to retrieve and easily learns new tricks.
She is around 52 lbs. and stands approximately 22 in. tall.
OFA/Genetic Tests
Hips: Good
Eyes: Normal
Heart (AUSC/ECG/ECHO) : Normal
Elbows: Normal
Thyroid: Normal
Dentition: Normal
Prcd-PRA: Clear
PRA1: Clear
PRA2: Carrier
Ichthyosis: Clear
DM: Clear
NCL: Clear
Ledger
Ledger (HR Master's Why So Serious OAJ OA ACT1 CA DS TKA CGC CCA WCX ATD TGE) is a stunning male with a thick, dark, golden coat. Ledger has received multiple awards in hunting, dock diving, jumping and agility. He is always working toward more titles with his owner, Laura Kellogg, at Talk About Retrievers from Texas.
He is a hard-hitting, high-drive dog with medium energy while also being naturally easy-going. He is inherently not a barker either. He is very gentle with children, the elderly, and other dogs.
Ledger weighs about 70-75 lbs. and stands approximately 24 in tall.
OFA/Genetic Tests
Hips: Excellent
Eyes: Normal
Heart (AUSC) : Normal
Elbows: Normal
Dentition: Normal
Prcd-PRA: Clear
PRA1: Clear
PRA2: Clear
Ichthyosis: Clear
DM: Clear
NCL: Clear
---
Preparations
Before they go to their forever homes, all of our puppies will:
Be socialized with early neurological exercises and daily scent stimulation
Be exposed to a variety of situations following the Avidog way
Receive their first age-appropriate vaccinations
Be dewormed
Be microchipped
Have their dewclaws removed
Given all the care and love they could wish for (and then some…)
---
Interested in a Puppy?
If you are interested in one of our puppies, do not hesitate to fill out an application or contact us. Prospective owners will be placed on a list based on the order in which their deposits are received.